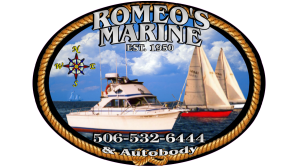 Contact us for information on our products and services.
Romeo's Marine & Autobody Ltd.
is Located at
583 Main Street, Shédiac,
New-Brunswick, Canada, E4P 2C6
Latitude:   N 46o13.434′
Longitude: W 64o30.846′
Regular hours of operation of
Romeo's Marine & Autobody Ltd.
(April – October):
Monday – Friday ; 8:00Am to 5:00Pm
Saturday & Sunday ; 9:00Am to 12:00Pm
and if you can't make it within the regular business hours
give us a call we'll try to help you out ….

Owned and operated by Roméo Léger
Telephone: (506) 532-6444
Send us an email, we'll get back to you as soon as possible.